We Love NASHVILLE!
Hey guys!! It has been a minute since the last time I blogged... *facepalm*
Our wedding was in July, and I have so many draft posts for you to see!! Until I can finally get my life together and publish them, I wanted to write a quick blog post about our amazing trip to Nashville, Tennessee. I had heard SO MANY wonderful things about this city, and then Brad just so happened to get an internship interview there. So what's a married couple to do? Make a trip out of it! We could potentially be living there for a year, so we figured we should get to know the city.
As soon as we got off the plane, we stumbled upon live music and rocking chairs in baggage claim. And in that moment, I knew Nashville and I were gonna get along.
Take a peek at all the fun things we did!!
First things first, I gotta show you the Airbnb we stayed in because
It was cute AF
It was super affordable
It was only a few minutes away from downtown and the surrounding local hot spots
Click here if you're interested in staying at this adorable studio 😊
We landed around 3pm, got settled, and then went straight to Taqueria Del Sol. Disclaimer: You might see several food-related photos. New year, new chub. But how can you not indulge in a city known for its delicious noms?! Thank you to everyone for the most amazing recommendations. Wait until I get to the hot chicken...
Words can't express how much Brad and I miss authentic Mexican food. Coming from California, it's been a battle trying to find an eatery in Tulsa, OK that can serve up a mean burrito. Needless to say, Taqueria Del Sol dished up all the things and then some. If you go, the shrimp corn chowder is a MUST! After we filled up on tacos and margaritas, we headed to The Johnny Cash Museum. Yayay!
Not only do Johnny and I share the same birthday, but I grew up listening to him thanks to my dad's musical tastes. This museum not only focuses on Johnny Cash but also the artists that worked with him throughout his career. Elvis and Bob Dylan ring a bell? Walk The Line also happens to be one of my favorite films, so you can imagine how stoked I was walking into a museum dedicated to "The Man In Black". Brad went in with me because he's a sweet and caring husband, but he walked out a Johnny Cash fan. #LEGEND
Onward to Day 2!
This, my friends, is Biscuit Love. It was 30 degrees outside and there was a line out the door, but we didn't care. This place is known for its delicious biscuit options (obviously), but they also have several entrees without those delicious morsels as well. Brad got the fried chicken biscuit (pictured above), while I ordered a healthy egg & kale combo ONLY BECAUSE I knew we also had to order the bonuts (bottom). So naturally, I demanded them as an appetizer.
Bonuts: fried biscuit dough, lemon mascarpone, blueberry compote - I could cry.
After brunch, we waddled out the door and walked around the corner to the famous "What Lifts You" mural. Thanks for giving us wings, Kelsey Montague! We got lucky this day; there is typically a line extending around the block to pose for this unique photo op! Totally worth it though, this 20-foot long painting is quite the stunner.
You can find Biscuit Love and the "What Lifts You" mural in a part of town called The Gulch. It's an urban neighborhood littered with tidy shops and neat restaurants. We really enjoyed it!
Since we were in full shopping mode at this point, we decided to head to another local spot on our list called Hillsboro Village. Personally, I preferred this area over The Gulch. The street is lined with small business shops and sweet boutiques. Extra bonus: Not a Starbucks in sight! Don't get me wrong, I love me some Starfux but checking out local coffee shops is one of our favorite things to do. We settled on Fido because it was recommended to us, and it did not disappoint! Check out the insane coffee concoctions we got:
Brad's Drank: Drury Lane - nutmeg, clove, vanilla, ginger, cinnamon, espresso, milk, cinnamon whipped cream
My Drank: Summit County Cider - matcha green tea, honey, pear, rosemary, clove, lime & lemon juice (I was sick so this was heaven in my mouth)
With our warm drinks in hand, we spent some time wandering around Hillsboro Village and even picked up a few goods to take back home.
Our day didn't stop there! Brad really wanted to see The Parthenon, which is a full-scale replica of the original Parthenon in Athens. We didn't pay to go inside the museum, but we did snap some pictures of the Greek artistic elegance.
Unfortunately, we only managed to withstand the cold (it was below freezing!) for about 20 minutes at The Parthenon. With warmth on our minds, we returned to our Airbnb to relax and defrost before dinner. We decided on The Pharmacy, a burger parlor & beer garden. Ugh, to be eating there right now. Not only is the food absolutely delish, but the warm and inviting atmosphere is awesome too. The venue exudes elements of classic German bierstubes (beer halls), while keeping true to the rustic aspects of the American Midwest. The menu affords ample opportunities to try classic German dishes, including bratwurst and burgers. For folks seeking a healthier dining experience, they offer turkey and veggie variations on many of their entrees as well! AND THE BUNS. The buns are beyond description.
Brad had his interview on Monday, so I worked at a coffee shop down the street until he was done in the early evening. I set up a game plan for us so that we could fit in a bunch of activities with our minimal amount of time. And this is how it went down:
The Listening Room was by far our most favorite part of the trip. You can find live music here every. single. night. This venue is mostly for aspiring artists trying to make a name for themselves, and they're all so. damn. talented! The 2-hour set with 4 musicians definitely pulled at our heartstrings, and now we have some new artists to follow. 10/10 would recommend. You gotta go!
This photo was taken from Pedestrian Bridge!
Speaking of that charming bridge, this is where we started our last day in Nashville. If you park near Nissan Stadium, you can walk across the bridge into Downtown Nashville and skip the parking fees 😉 We learned this the hard way after paying $30 for downtown parking the first night! No thanks.
Country Music Hall of Fame and Museum was only a few blocks away from where the bridge ended, and this was the last big thing we wanted to do. Even if you're not into country music, just suck it up and do it. Country/folk music is where it all started, people! Tap through to see what you're missin'.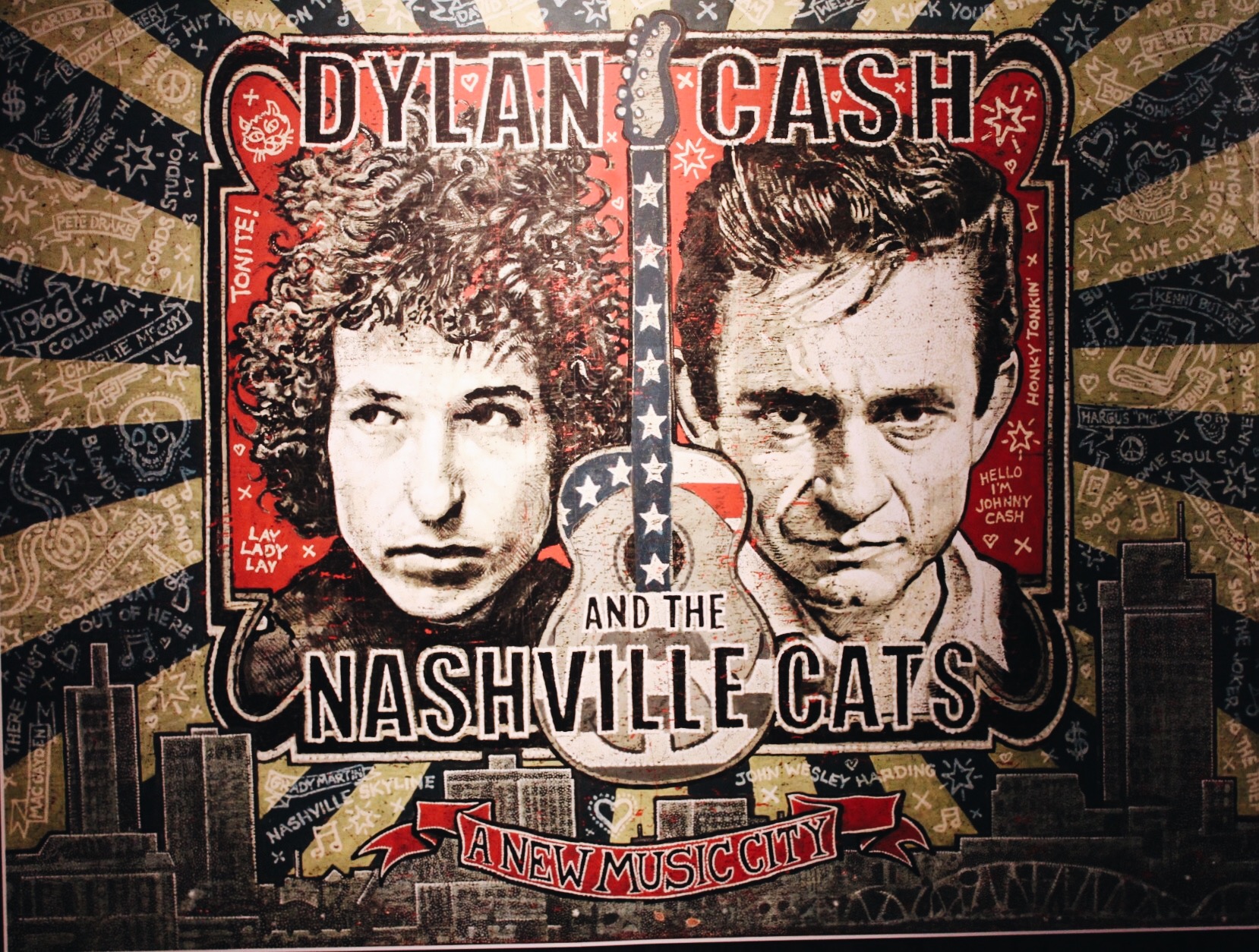 And there you have it! Our unbelievably fun trip to Nashville. This city has a whole lotta soul, and so many driven people trying to fulfill their destiny. LA is for the dreamers, Nashville is for the doers. You'll leave this city with a fire in your soul, ready to ignite whatever it is you've been wanting to do in this life.
And now, I leave you with some honorable mentions...
Pancake Pantry: You know the pancakes are good when you buy a shirt that says, "I Love Pancakes". Not even joking. Buttery cinnamon syrup? I'll take 5 gallons, please.
Bastion: The upscale hipster bar for Nashville locals. Yeah, it's a vibe.
Bar Taco: This tapas-style Mexican restaurant reminded me of home in Huntington Beach, CA!! When I told the manager that they needed to open one on the West Coast, he told me there was too much competition. Sir, I think not.
When you are headed to Nashville, I hope this guide serves you well! Feel free to leave me some more recommendations if I missed any, I know we'll be back ♥️ Love y'all!